A rockin' 2 DAY signwriting COURSE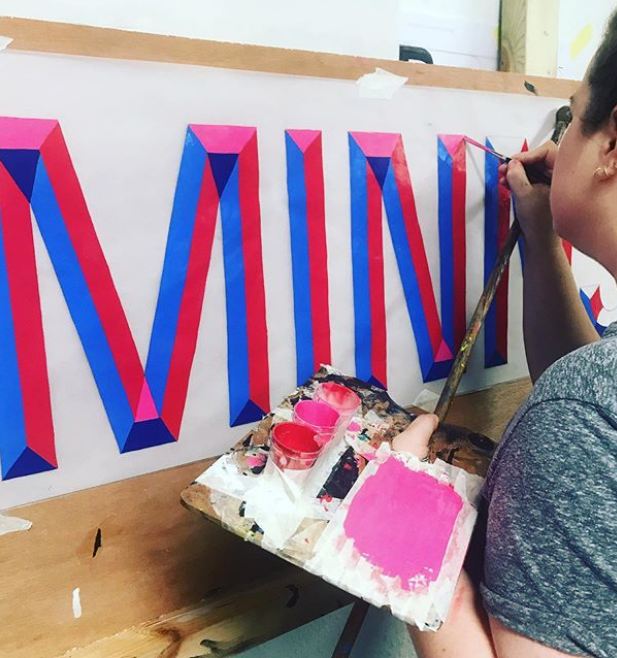 Yep! Escape the computer and join the new skill team!
SundaY
BREAK FREE!
10:00 - 17:30
Day 2. Meet at the studio. Gather ideas and start really powering ahead with your lettering. It's amazing how much we learn on a nights sleep! Fine tune the skills from the day before and learn how to add flair to get those letters popping!
SaturdaY
FIRST STROKES
10:00 - 17:30
Induction at the studio. Meet Nick and your classmates. Get stuck in with the basics of lettering; sketching, tracing techniques and preparing materials. Live Demos of brush control for different styles of essential lettering from Nick Garrett himself! Next we pick up the brush and get painting! Practice makes perfect!
Lots of great Demos
Demos are super important - watching is learning
'I learned some stuff from Youtube by watching and painting what I thought I had seen. That's just so not the same as watching Nick - it's mesmerizing and he shows you EXACTLY how it gets done…''
Taylor, USA Mini Apprenticeship 2019
Our courses load you with demos and one on one close up tuition.
Experience your Next level skills
I apply dedication to NGS course development… it shows you the absolute method of solid brush control and stays ahead of trend in modern taught sign painting techniques - with the important addition of custom learning material.
Some of the things you'll Learn
About Pricing
Learn how to price up jobs to start your own business as a professional sign writer.
Kit-Stop
Using top-notch kit, learn the preciseness of paint mixing and learn what materials you will need, to continue practicing after the course
Ouch! Super Sharp Corners!
Learn how to perfect those corners with special techniques and with guidance from Nick himself.
We'll get you lusting for the brush and getting that Oneshot enamel running hot with:
London Blocks, Johnston/Gill/Gotham, Trajan Roman, Bodini/Didot Casuals & Freehand Paper sign Scripts
X Rate your Bold Drop Shadows and Shades
Got your OBJECTIVES ALL Sorted?
First objective of this programme is to get your letters super sharp and clean.
Secondly to get your on-site set-up and roll-out skills second nature, so you will impress and gain confidence.
Thirdly to instill all the essential parts of this amazing profession. Central to this sound core is to get your preparation and problem-solving skills into full swing. Dynamic project planning and problem-solving skills are absolutes out there.
Design Thinking: This week moves you into a professional high performance mindset. It will set you on course doing things the right way.
OMG And for a few laughs I will show you also what happens when you do a few key things the wrong way!!
LOve some MORE INFO?
Try our Five day course or NGS Mini Apprenticeship. The advantage of rolling into further extended studies is huge. You'll embed real time skills, new learning material whilst having some valid work experience to add onto a glowing Insta and CV.