THE 5 DAY NGS Signwriting COURSE
Creative SKILLS
TRANSFORMATION
NGS Signwriting course London. A 5 day sign painting course in London and coming soon!… also in Margate UK.
Learn about sign writing brushes, equipment care and setting up projects. Typograhic design, Font design improvement, lettering sign writing demos are all included. Learn about the essential 5 fonts for signwriting. Sign writing brush set at cost prices get you on your way to being a pro! Signwriter Nick Garrett one-on-one in small classes for all levels and complete beginners.
TIMES: Saturday start through to Wednesday finish
Daily Start Time 10.00am Finish 5.30pm (except for Live on-Site Projects)
'Work Manual' & Posters to take home for practice.
See upcoming courses, availability and prices here.

Signpainting Courses Learning the 'FIVE BIG STEPS'
NGS work hard for all students with sound preparation and detailed coaching. We keep the participants needs in sharp focus.
Sign up here when you're ready and get on the brush.
SundaY
BREAK FREE!
10:00 - 17:30
Day 2 and you can gather ideas and start really powering ahead with your lettering. It's amazing how we learn on a nights sleep! Start carving out sharp corners, getting the brush control in place and trying out some different essential retro lettering styles.
SaturdaY
FIRST STROKES
10:00 - 17:30
Induction and Fees. Get stuck in with the basics of lettering; sketching, tracing techniques and preparing materials.
Next we pick up the brush and get painting casual or block letter alphabets!
Tuesday
LIVE ON SITE
10:00 - 17:30
LIVE We're out on site shadowing sign master Nick as he walks through a typical project for real. This really shows you the application of all the strategies for real. You'll also be going live and assisting the production process.
NOTE: Live projects are subject to change - depending on the project and client. Another learning opportunity.
Gilders Second gild the panel and burnish.
Distressed Lettering Effects Heads-up and trick box.
Monday
I LOVE MONDAYS
10:00 - 17:30
The morning takes us to Dalston to meet Charlotte and the crew at A. S. Handovers took grab some gear and drool over all the amazing stuff in the signwriter's shop of shops. Then it's back to the studio to take on shading and outlining techniques.
Gilders will spend one evening session making a sexy glass panel design.
Live on site may also be happening on Monday!!
As suitable fresh start type NGS projects roll in.
Wednesday
STRENGTHENING FINALE
10:00 - 17:30
Wednesday morning and you have the whole day to work on blending and surface gilding techniques and recap on fine tuning you. We may still have a site project to drop in on and by this time your on-site set-up and start will be second nature.
Day 5 is all about you - you feeling more freedom than ever and pulling new ideas out of the bag. We then do finish strong, celebrate and consume beer.
Gilders Finish off the panel back up and clean.
Wrap and pack.
NGS COURSE BOOK…
As a 5 star student, you'll get a FREE copy of the 'Bones of Painted Letters' by Nick Garrett which maps out the whole workshop, stroke by stroke! It's a fantastic gem of a book.
86 Pages of pure sign painting technique

history and superb alphabets.

Intro by Noel Weber and last word by David Adrian Smith.
OPTIONALLY: Gold Leaf Techniques:
This is an optional add-on to 5 day your course (Please contact Nick for fees)
Learn how to reverse glass gild. We'll supply a glass panel and teach you to clean it (really clean!) and apply your chosen design, in reverse and in mirror gold. This is a tremendously valuable technique and you walk away with a beautiful memento from the course. Secrets explained. There are a few closely guarded secrets we'll share with you. Secrets that allow you to create perfect Crystal Victorian mirror gilding like no other.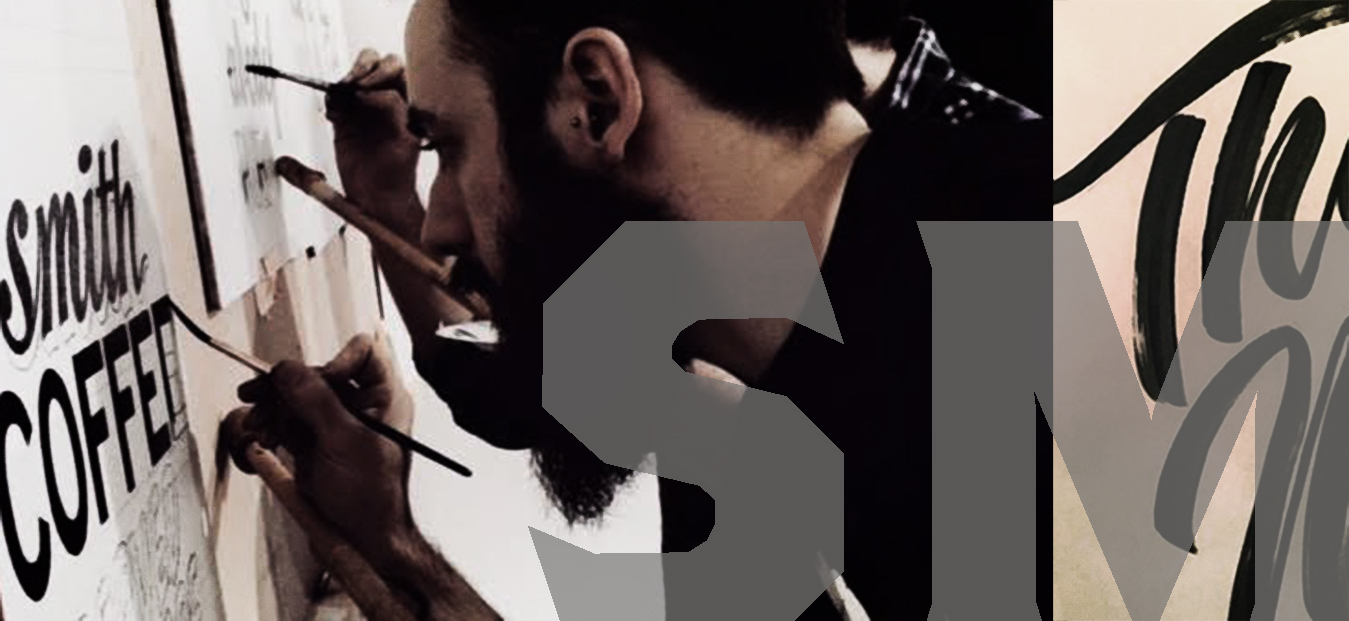 A Vocational Course designed to work
400+ new pros Trained
This is No Bullshit, Proper Signwriting
Jeff Marshall
''If you learn the right way you'll be taught to use the brush and mahl stick - end of story. The focus of this course is to teach you brush skills and sharp, clean pro-finish.
This isn't about making a souvenir panel it's about making you successful. Real sign-writing fully explained in this course designed to set you up as a newbie pro writer. The hundreds of artists we've taught and helped launch are out there.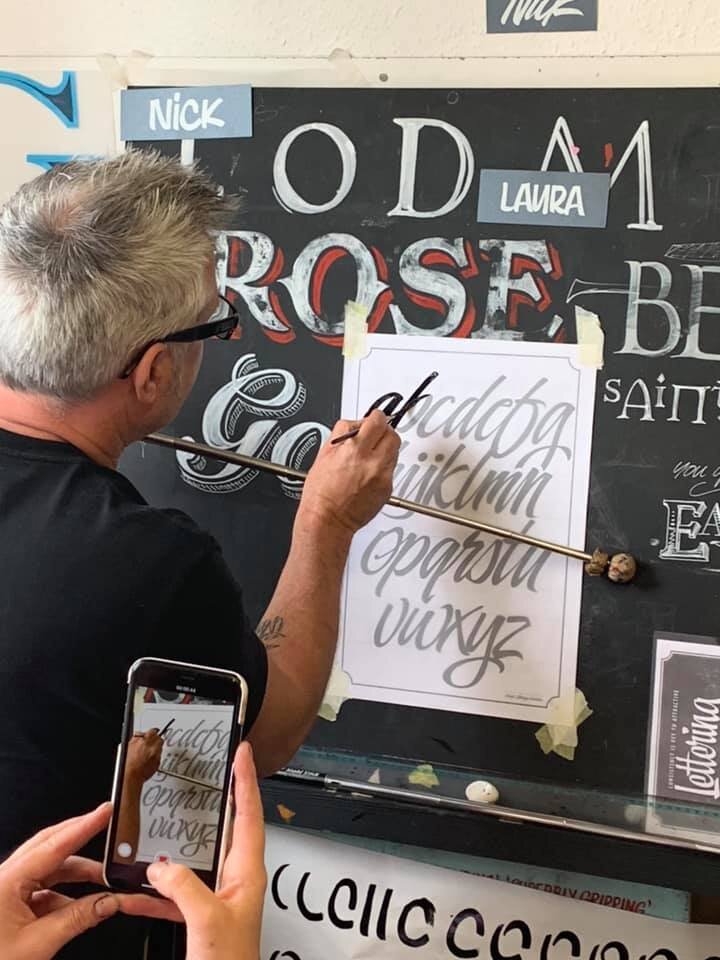 Live demos
close-up
Demos are super important - watching is learning
'I learned some stuff from Youtube by watching and painting what I thought I had seen. That's just so not the same as watching Nick - it's mesmerizing and he shows you EXACTLY how it gets done…''
Taylor, USA Mini Apprenticeship 2019
X Rate your Letters, Bold Drop Shadows and Shades
OBJECTIVES
First objective get your letters made with great shapes, long strokes and super sharp corners.
Secondly to get your on-site set-up and roll-out skills second nature, so you will impress and gain confidence.
Thirdly to instill all the essential parts of this amazing profession. Central to this sound core is to get your preparation and problem-solving skills into full swing. Dynamic project planning and problem-solving skills are absolutes out there.
Design Thinking: This week WILL move you into a professional high performance mindset. It WILL set you on course doing things the right way. And for a few laughs I will show you also what happens when you do a few key things the wrong way!!
YOUR Learning PROGRESSION
Next step could be the NGS Mini Apprenticeship ADD-ON.
The advantage of rolling into further studies is to embed all the professional skill sets, gain additional learning material whilst having adding more samples to a glowing Instagram CV.
About 2 years ago I left my job determined to learn new skills and
eventually start my own sign writing business.
I found Nick's workshop and what caught my attention at the time was the fact he seemed to be the only one to offer a grasp of what life is like out there as a
professional, as opposed to focus solely on the technique to produce
beautiful letters.
Don't worry though, there's plenty of technical
details to be picked up by drawing and painting, listening to Nick and
watching him in action.

What I got out of it, was knowledge, confidence, skills, support and
new pals (Nick himself, and other great people gravitating around the
workshop).

I'm now working full time as a sign painter and chalkboard writer,
still learning but feeling good and confident.

Thanks buddy,
D