These Towering Foundations of type
In a nutshell type as we recognise it today really started as The Imperial Roman Alphabet 50-75 AD. (aka 'Trajan Roman' in our modern day 'Font' driven design world).
As the printing press developed, type makers designed squarer sets of alphabets and the printed letter exploded across the world evolving it's myriad of variations pretty much overnight.
Raw creativity and ideas sparked diversification and variation. We promote the ethos that what has gone before is the tip of the creative iceberg: new things are only a pencil stroke away.
Johnston Railway letters
You will learn how Trajan gave rise to Bodoni and recently to Edward Johnston's timeless underground/railway sans serif typeface.
'My teacher said if you want to learn the greatest letter on earth just look at a London bus… he was right'' Hughie Baker, 91yrs, Letter cutter Fulham.
Edward Johnston also taught my grand father and his influence on my own practice has been immense. Let's find out why together.
How we teach
because you are special and we are specialists…
The mighty Roman letter that is still the bricks and mortar of truly fine lettering but we use that as reference so you can keep your style to the fore.
That said we have some awesome posters as handouts that really smooth the way forward for you when drawing up type for example. Check out the sheets below…
It's often easy met with challenges along the way of course… but I keep it all cool for you in the studio with expertise shared in the right way.
Have a beautiful weekend!
Nick Garrett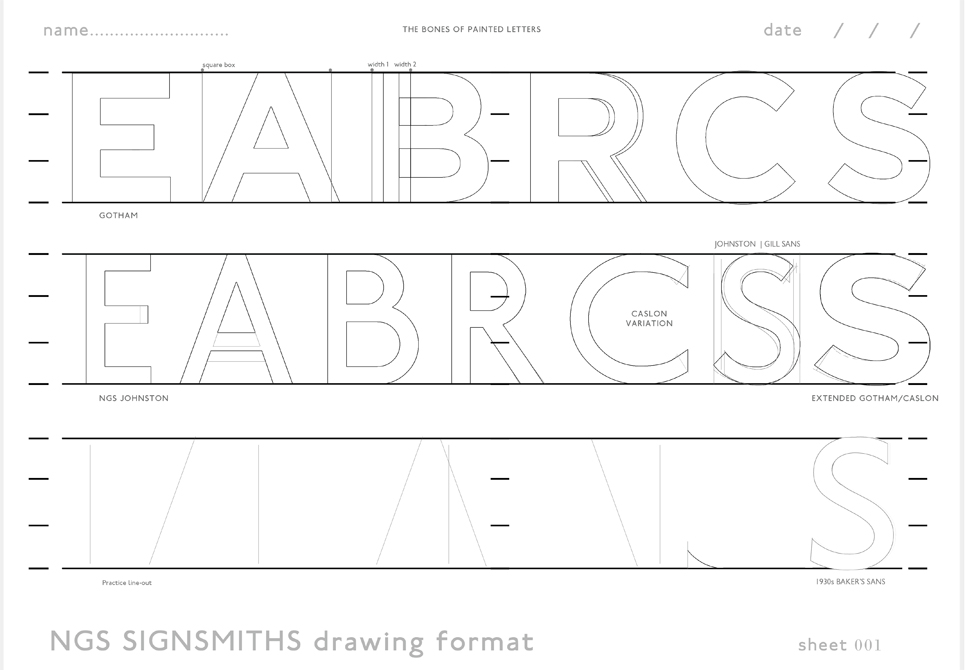 We have innovated some pretty awesome A2 learning sheets for you that share the way perfectly… how good is that!!?
because you are special and we are specialists