Drawing & THE BONES
The morning follows the same itinerary as the weekend course with drawing mods, but breaks straight into painting casuals before lunch. We refer to the 'Bones' NGS handbook as we head off into the - known!
Stroke-play MECHANICS
We kick off by learning how to set up the painting pallet, mix and apply perfect straights, arcs and corner strokes. By focusing on the palleting properly the student accelerates the practical 'mechanics' of writing.
Casual LETTERS
Casual letters help develop good overall brush control and the one day course aims to dip you in the half full pot and get you rolling. Lots of demos along the way and by 3pm you will be producing great results.
Design | SPACING | ideation
The afternoon also looks at kerning/spacing secrets and solutions. Then on to layout trace-down methods for sound site work and getting designs organised with good type hierarchy.
CORNERSTONE discussions
Group chats feature on the 1 Day workshops as it's a way of hearing shared experiences, new angles and embedding key cornerstones.
TECHNIQUE DEMO & RECAPS
A good group summary finishes up the day with a re-cap all about posture and a dash of Zen breathing to keep you in the zone all chilled out.
The NGS 'Bones' book serves as a solid reference point too. Beer o'clock is also not to be ruled out.
astonishing progress
Concise yet flowing. The knowledge sharing process is now well defined and always errs toward the practical solution-based approach.
By emphasizing the importance of 99% sound mechanical delivery the whole skill set relies on stable chunks of repeatable practice.
You'll see the proving and improving as you go.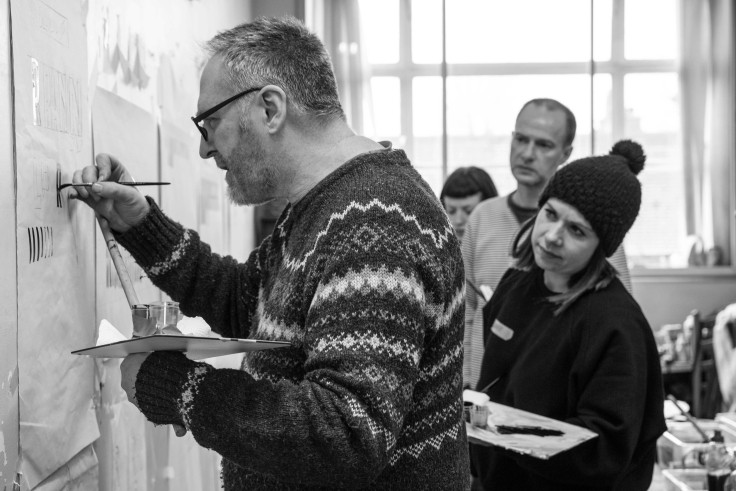 They aim to show you repeated versions of the technique… and the hand you indelible ethos of pure diligence.
It's not always about making perfection
but it is always about finding the
beauty